14" megaphone muffler
High flow flange kit
Show-polished finish
2.25" outlet removable baffle
Aggressive sound (2.25" optional noise reduction insert sold separately)
No fairing modifications required
Aerospace quality, ultra lightweight stainless construction
Pre-installed 18mm bung for wideband O2 sensor
Includes (Emissions/PAIR) Block Off Cap and instructions for decel-pop reduction
3oz. tube of Permatex Ultra Copper® supplied with purchase
Includes Brock's lifetime direct support package
At no additional charge
Select from increased drivability/fuel mileage (pump gas) or race-proven (race fuel) track maps via our map support program
At no additional charge
Click here for more information on this model and to view other products available
2008 AMA Dragbike SuperSport National Champion
Weighing in at just less than 9 lbs., the ShortMeg™ Exhaust System provides for the ultimate racing experience combined with a modern "GP look" short, round megaphone muffler. The centerpiece of the system is the removable baffle with CNC machined/lightened billet aluminum faceplate. If you are interested in the style of our Alien Head™ with an emphasis on all-out performance, let the 2008 AMA Dragbike SuperSport National Championship-Winning exhaust system show you why it is the system to beat every day, especially Sunday.
Dyno Chart: Click image to enlarge
SAE Scale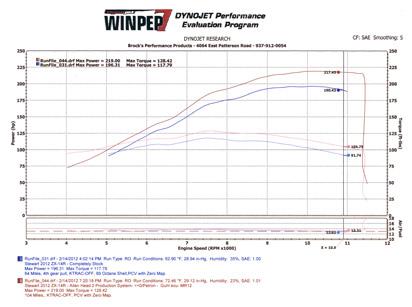 ---
ZX-14R Exhaust Weight Comparison
OEM Exhaust System:
Front Section: 8.8 lbs.
Right Muffler: 16.25 lbs.
Left Muffler: 16.00 lbs
Total = 41.05 lbs.
Brock's Performance ShortMeg 2™ Full System:
Front Section: 5.45 lbs.
Flanges: 1.05 lbs.
Muffler: 3.15 lbs.
Total = 9.65 lbs.
Total Weight Savings = 31.40 lbs. or 76% of stock weight